Charlie Burger's music is truly his own unique blend and style
Charlie Burger's music is truly his own unique blend and style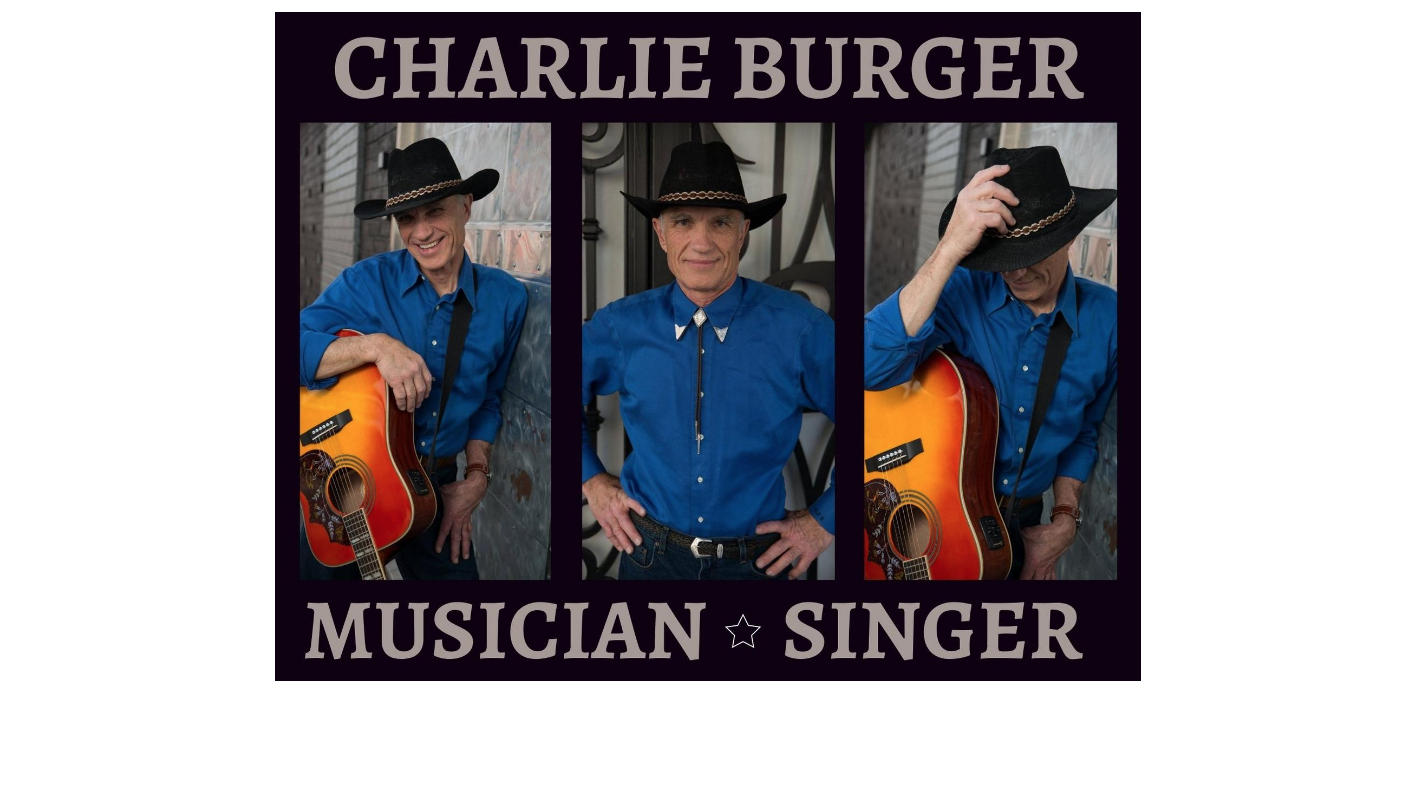 Charlie has been working as a vocalist and guitarist in bands and solo projects since the middle of the 1960s. He experienced the "oldies" while they were still fresh, vibrant. He is "at home" on stage, and it shows in the flavor and genuineness of his music.
Charlie's music is truly his own unique blend and style. In addition to being an excellent musician, he also comes across as an entertainer. He performs a wide variety of songs from that period, including songs by Credence, the Beatles, Bryan Adams, and artists from the softer "folk" subgenre, such as Bob Dylan, Peter Paul & Mary, Simon & Garfunkel, as well as songs from the country, pop, and show business genres.
From 1999 to 2001, he sang backup for the Los Angeles, California-based soft rock band "Sheer Magic.". He collaborated on their independent rock album "The Mystery is Gone" with them. In addition, he toured throughout the Midwest states in the 1960s with the rock, pop, and R&B band The Chancellors in the Twin Cities.
Charlie currently regularly performs on the weekends at the Bass Pro Shops in Las Vegas, in addition to the occasional party or professional event.
You may also recall him from his time as a street musician on the Strip. He would generally stand in front of the Palazzo Hotel/Casino, where you would constantly see people lingering throughout his performances and frequently "dancing in the streets" to Bob Seeger or CCR songs.
Charlie went to Alexandria, Minnesota after his mother passed away there and he was there for almost a year renovating and then selling her home in May of 2020. While there he performed at various local events, such as Christmas in the Fort and the Jingle Bells telethon, for which he said he "worked extremely hard" on his Ave Maria performance.
During the Holiday Season in 2019 Charlie performed in the Viking Plaza Mall in Alexandria, He performed for three to four hours every day, five to six days a week. He frequently engaged in discussions with mall visitors. "People like to sit and enjoy the music," he said. "The acoustics here are good." For people to hear his music better, he noted, the mall is nice enough to turn off its sound system while he performs. He aspired for his music to boost sales at the Mall.
Charlie also has a music blog to help other artists, especially solo performers. "As it is my primary purpose to not only perform my art but also to help others along this line, I want to share what I have learned along the way. My story, my path, is unique – as will be yours. I have some things to say about it that you may find helpful in your own aspirations to become a solo performer. As I am a singer/guitarist, that is what I know best, and that is what I will talk about. Although, you may find basic principles apply across the genres and art forms."
"I believe we are in a modern-day Renaissance. And, with the internet, we have a communication line that can convey our messages instantly all over the globe. We even have a way to translate what we do into all the languages of Earth. Wow! It's like a global library with every resource you may need or want at your fingertips!"
Charlie Rocks Vegas Website
Charlie Rocks Vegas Facebook Page
https://www.facebook.com/charlierocksvegas
Attention bloggers and pod~casters, for follow up interviews with Charlie Burger contact Sharry Flaherty of Samera Entertainment at: SameraEntertainment@Gmail.com